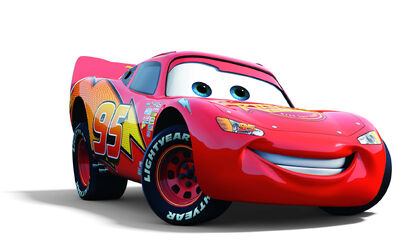 Lightning McQueen
 is the main protagonist of the Disney/Pixar 2006 feature film 
Cars
, and the deuteragonist of its 2011 sequel. In 
Cars
, McQueen is a rookie racer, tied with Chick Hicks and the King for the points lead in the Piston Cup stock car racing circuit.
Role in the Series
Edit
Lightning McQueen first met Sonja and her friends in Sonja's Adventures of Cars. He is great friends with Veronica (The racer who uses her extreme gear board in the races from Sonic Riders). McQueen appears in some episodes that has to do with racing and he is always compete in races with Sonja and her friends. He appears to be good friends with Sonja in Sonja's Adventures of Kirby Right Back At Ya-Episode 31.
Personality
Edit
At first, Lightning is self-centered, arrogant, conceited and overconfident, believing that he can win the Piston Cup on his own without help from any pit crews or coach. He is so full of himself to the point where he claims he does not need any friends and cannot even get anyone's names right. However, he is also something of a perfectionist, and will not cease to get something done right even if it was not in his best interest to indulge in it in the first place, as seen when he was tasked by the townsfolk to fix the road that he himself destroyed when he first arrived at their place. After a few grudging performances in his attempts to fix the road, he finally manages to do so. His sponsors are Rust-eze, a small company selling soothing ointment for rusty old cars, which Lightning hates. However, he transforms into a more sympathetic, understanding, and selfless character during his time in Radiator Springs on Route 66.
Relationships
Edit