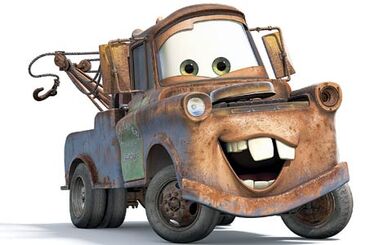 Tow Mater
, known as
Mater
is the deuteragonist of 2006's 
Cars
, and the main protagonist of its 2011 sequel and his very own series of TV shorts,
Cars Toons: Mater's Tall Tales
. His catchphrases are: "Dad-gum!", "If I'm lyin', I'm cryin'!", and "Git-R-Done!"
Role in the series
Personality
Edit
Mater speaks with a somewhat high-pitched thick rural Southern accent, has a whistle dry lisp to his voice, and frequently misspells words. He is very optimistic and often at times forgetful. He has got the biggest heart, and is sweet to a fault. He also has true unconditional or agape love for others, and just needs true friendship from other people. He can be extremely scared or skittish at times because of his sensitive nature, and from being constantly and harshly abused by Bubba in his past.
Although he may seem silly and dim-witted, he has a vast encyclopedic knowledge of automobiles, engines and towing, and is a fiercely loyal friend to anyone who is willing to give him a chance at true friendship. He unknowingly bestows wisdom upon others at times. He is also beyond funny without realizing it. He also likes to joke about different things, like saying Sally is his fiancée, when she is really not. Although he is not the smartest car in Radiator Springs, he makes up for it for his extreme heart and loyalty. He has got the biggest heart more than anyone in town. He is extremely friendly, especially towards Holley Shiftwell, Lightning McQueen and Sally Carrera.
Relationships
Edit